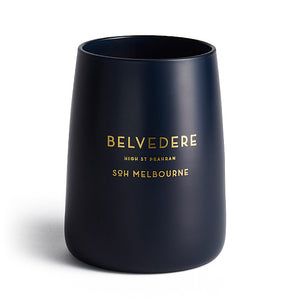 Balancing the strong aroma of uncut Belvedere Tobacco and the sweet sensual hint of Rose brings life into this candle. Throw on your velvet jacket, turn the lights down low and pour yourself an aperitif. Cue Van Morrison...
Fragrance notes: tobacco, rose
Wax blend: soy, beeswax & candle grade paraffin
Vessel: thick bottom curved glass in navy matte
Volume: 350g (12.3 ounces)
Burn time: 70 hours approx
Hand poured in Melbourne, Australia
---
ABOUT
SOH MELBOURNE is an Australian fragrance house producing bespoke candles and perfumes created and poured in Melbourne. Founded in 2013 by husband and wife team, Nathan and Kristine Brown. SOH MELBOURNE creates an olfactory experience that is clean, fresh and innovative with a modern approach to age old perfumes using the very best natural ingredients.