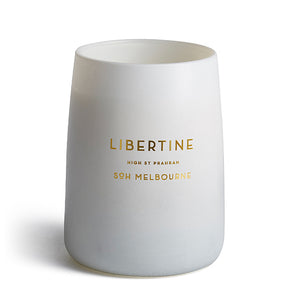 Heavenly petitgrain, delicate orange blossom layered with green leaf of bitter orange tree... On a cliff face in the Mediterranean lies an artist vision of a perfect painting. A summer sunset, the red dashing across the sky, the green leaves of the Orange blossom beginning to turn down and the delicate flower exhaling sweetness into the air.
Fragrance notes: orange blossom flowers, leaves & twigs
Wax blend: soy, beeswax & candle grade paraffin
Vessel: thick bottom curved glass in white matte
Volume: 350g (12.3 ounces)
Burn time: 70 hours approx
Hand poured in Melbourne, Australia
---
ABOUT
SOH MELBOURNE is an Australian fragrance house producing bespoke candles and perfumes created and poured in Melbourne. Founded in 2013 by husband and wife team, Nathan and Kristine Brown. SOH MELBOURNE creates an olfactory experience that is clean, fresh and innovative with a modern approach to age old perfumes using the very best natural ingredients.